Defining GPO's Responsibilities
While the adoption of Global Process Owner is constantly on the rise, there is still a lot of mist around defining the core responsibilities of an Order-to-Cash (OTC) GPO.
According to the text analysis of 100+ job descriptions for OTC GPOs, here are some common expectations:
Establish and communicate a clear vision

Drive global deployment and adoption of the process, with regional and local requirements customization

Develop and translate strategy into operational goals, objectives, and process roadmaps

Identify

necessary

resources

(people

and

capital) to support the

implementation

of these strategies.
Assess opportunities for continuous process improvement and expansion
"In order to meet the requirements of Global Business Services, it is essential  to make use of technological platforms."
   – PwC Report2
GPO's Dilemma: Inability to Leverage Technology
Order To Cash Executives today believe in the potential for technology. Here are the standard benefits expected from RPA and AI:
81% believe productivity savings as key benefit1
58% believe it improves customer experience1
Moreover, according to another survey by KPMG, 62% of respondents from larger enterprises are already investing or are planning to invest in digital labour.
However, here comes the shocker. According to the data shared at the European Shared Services Leaders' Summit:
35% of implementations(RPA and AI) have not been able to achieve their planned benefits.
Surprised? Don't be.
GPOs today are not ready to surf through the oceans of technology while keeping their A/R ship steady.
Here are 5 skills that helped Cargill, adidas, Huntsman, Danone and McCormick rudder their Order To Cash in the right direction.
CHAPTER

02

5 Skills Every OTC GPO Needs in the Age of AI: Secret to adidas, Cargill, Huntsman, McCormick and Danone's A/R Success
Skill #1:
In-depth Process Knowledge
Adidas's Epiphany on Digital Transformation
Why this skill is necessary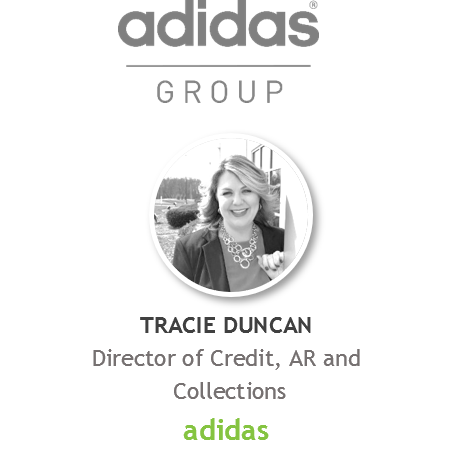 Process complexity is a significant driver of increasing process costs which is difficult to teach, slow to execute, and expensive to maintain.
Furthermore, governing compliance for these processes is difficult to establish and monitor, especially as regional variations push up against global standardization.
Hence, before starting on the journey for any standardization or digitization, GPOs need to have an in-depth process understanding.
What adidas achieved using this skill
adidas's Challenge: Disconnected Systems
Disparate systems for processes across credit, collections, deductions, billing, and payments.
Multiple, disconnected systems led to:

Productivity loss in low-value manual coordination across teams
Broken customer experience in interfacing with different systems
Concerns about maintaining a single source of truth with SAP
adidas's Epiphany on Digital Transformation
With in-depth understanding of their process, Tracie Duncan, Director for Credit was able to define their requirements from technology clearly
Defined the vision as "Digital Enablement  with Integrated Receivables"
These vision aimed ay two core objectives:

Enable digital collaboration between A/R teams
Drive adoption of e-invoicing and e-payments


In order to move away from a "siloed" approach, the team laid out the following charter for successful technology deployment:

One vendor across credit-to-cash for a simplified IT landscape
Handle subsidiary operations through a single system
Enforce tight ERP integration to maintain a strong, single source-of-truth
Leverage automation to eliminate low-value manual tasks across credit-to-cash processes
Skill #2:
Data Driven Decision Making
Cargill's Transition to Lean and Simplified A/R
Why this skill is necessary
Before jumping into the next best technology available, it is essential for the GPOs to take a step back and analyze their processes in-depth.
Poor understanding might lead to poor decisions at high costs and negligible results.
Hence, only after comprehensive analysis and benchmarking, GPOs are informed enough to make accurate decisions.
What Cargill achieved using this skill
Cargill's Challenge: Complex IT Landscape
Worked out of decentralized business units.
Tried to "lift + shift" to a centralized shared service model
Realized the lack of an integrated model that could support their multifaceted IT landscape consisting of:

5 enterprises
20 business groups
28 JDE instances
5 SAP instances
90+ proxy CTC applications
50+ ERPs
No centralized customer master data
Decided they needed a different approach.
Opted for "lift + shift + transform" strategy
Standardize processes post transformation
How Cargill leveraged data driven decision making
Select technology based on maturity gaps in the processes.
Three steps to find maturity gaps:
With this, Gunther Smets, OTC GPO for Cargill was able to make informed decisions and transform to a lean and simplified A/R
Skill #3:
Project Implementation Planning
Huntsman's Deployment of 3 Modules in 2 Years Across 4 Regions
Why this skill is necessary
Transforming A/R processes for different BUs spread across different geographies is complicated. With the lack of proper planning and detailed roadmap for execution- it's a nightmare!
Hence, GPOs need to lay strategic roadmaps for project implementation in order to:
Avoid any risk fallouts
Keep all stakeholders involved
Streamline implementation and deployment of the solutions
What Huntsman achieved using this skill
Huntsman's Challenges
Multiple Disintegrated Systems

Lack of Centralized Global A/R Management
Cumbersome Credit Reviews
Lack of Visibility and A/R Tracking
Semi-Automated System
Non-standardized, Unscalable A/R Processes

Time-consuming, Manual Processes
Lack of Integration
Internal Teams Disconnect
Unavailability of Real-time Data

Outdated Data
Lack of Visibility and Transparency
Limited Support for Critical Decisioning
Due to these challenges, it was really difficult for Huntsman to transform their A/R processes.
5 Step Process Methodology
Deployed solutions for credit management, collections and deduction
Global deployment for BUs across US, Asia, LATAM, Europe within 2 years using the following strategy:
Improved their Order To Cash metrics as well as process visibility and transparency.
Skill #4:
Leadership and Communication
McCormick's Streamlined Change Management
Why this skill is necessary
New process implementation based on unfamiliar technology such as RPA and AI undoubtedly results in kickback from most of the  functional workers due to:
Lack of information
Insecurity around the job
Inability to understand the new method
Hence, GPOs must have robust communication and influential skills to smoothen change management and technology adoption.
What McCormick achieved using this skill
Here is how McCormick was able to address each and every single challenge posed during change management while implementing new solutions for cash application and deduction management:
Skill #5:
Long-Term Vision
How Danone Built Future-Ready A/R
Why this skill is necessary
In order to scale in the organic growth or M&A environment, it is essential to think beyond just customary benefits and focus more on value-additions including efficiency, customer satisfaction, and improved A/R health.
They need to think about the 'bigger picture' and drive global process standardization and continuous improvement for scalable and future-ready Order To Cash.
Hence, it is imperative for the GPOs to have a long-term vision and plan.
What Danone achieved using this skill
Danone's Long-Term Vision:
Danone wanted a technology that can eliminate manual processes and tasks to:

Increase accuracy
Improve speed
Eliminate costs
Here is what they defined as the long-term vision for their Order To Cash:

Data integrity with a single source of truth

Single A/R platform for all A/R processes

Cloud-based SaaS for easy implementation

Easy to train resources

Based on this vision, Danone defined the key solution requirements for their A/R processes
Solution Requirements for  Cash Application:
Handle multiple remittance formats
Automatically identify and code deductions based on internal codes
Configure output based on specific requirements for different company codes
Easy to deploy across different business units
Solution Requirements for Deduction Management:
Automate collection of claims and POD backup documents from customer websites
Automate processing of trade deductions (85% of all deductions)
Track deduction case progress through the resolution lifecycle
Automate approval/denial correspondence with customer
Yes. These are the 5 skills that helped adidas, Cargill, Huntsman, McCormick, and Danone transform their Order to Cash operations for better.
Here is a quick overview of how 5 world class GPOs prepared their Order To Cash in the age of AI:
In-depth process and business acumen from adidas
Data-driven decision making from Cargill
Project implementation planning from Huntsman
Change management from McCormick
Long-term vision from Danone
Following the footsteps of these pioneers can enable businesses to tackle some of their most common challenges specific to shared services and help them on their journey for an optimized Order To Cash transformation.
However, the very first step in any OTC transformation, the first step is assessing your current process.
Ready to get started? Click here for a complimentary As-Is Process Assessment.
CHAPTER

04

About HighRadius
HighRadius is a Fintech enterprise Software-as-a-Service (SaaS) company. The HighRadius™
Integrated Receivables platform optimizes cash flow through automation of receivables and
payments processes across credit, collections, cash application, deductions, electronic billing and
payment processing.
Powered by Rivana™ Artificial Intelligence Engine and Freda™ Virtual Assistant for Credit-to-Cash, HighRadius Integrated Receivables enables teams to leverage machine learning for accurate
decision making and future outcomes. The radiusOne™ B2B payment network allows suppliers to
digitally connect with buyers, closing the loop from supplier receivable processes to buyer payable
processes.
HighRadius solutions have a proven track record of optimizing cash flow, reducing days sales
outstanding (DSO) and bad debt, and increasing operational efficiency so that companies may
achieve strong ROI in just a few months. To learn more, please visit www.highradius.com
HighRadius' Integrated Receivables Platform
Integrated Receivables optimizes accounts receivable operations by combining all receivable and payment modules into a unified business process. The Integrated Receivables platform provides solutions for credit, collections, deductions, cash application, electronic billing, and payment processing – covering the entire gamut from credit-to-cash.
The HighRadiusTM Integrated Receivables platform stands out by enabling every credit and A/R operation to execute real-time from a unified platform with an end goal of lower DSO, reduced bad-debt, and faster dispute resolution while improving efficiency and accuracy for cash application, billing, and payment processing.
HighRadiusTM Integrated Receivables leverages RivanaTM Artificial Intelligence for Accounts Receivable to convert receivables faster and more effectively by using machine learning for accurate decision making across both credit and receivable processes. The Integrated Receivables platform also enables suppliers to digitally connect with buyers via the radiusOneTM network, closing the loop from the supplier Accounts Receivable process to the buyer Accounts Payable process.